Introduction
Edit
Well this is just a new game, kinda based of my old game (Pokemon Sky Blue), which was lost because my brother deleted all my old files. So this year(November 24,2007) I thought I should try to make it again! So here I am making my game again =P
History/Story
Edit
Recently, a new region was discovered, with many new secrets. After the researchers searched the region they discovered that the Pokemon Darkrai visits this region a lot. The researchers believe that Darkrai lives on this region, so they don't think it's a good idea to let people take this region. But the people still go to this region, some of them came to this region to hunt down Darkrai, others came to set up gyms and discover new pokemons.
New Region
Custom Message
Custom Menu system
Custom Battle system written from scratch
Time System including day and night
Time Cycle: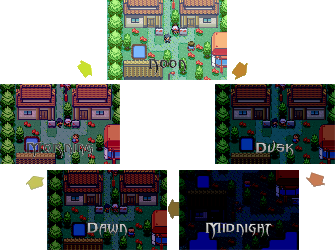 Random Weather effects based on where you are in game
ScreenShots
Edit
Select Gender-Boy(Boy sprite is just a placeholder!)
Select Gender-Girl(Girl sprite is just a placeholder!)
Staff list last updated 26th November 2007.
Staff List

| Member Nickname | Position(s) | Joined | Status |
| --- | --- | --- | --- |
| Illusion Gaming | | November 2007 | Active |
rataime
goldenaura3
Fangking Omega
Squall
phlyomortis
avatar
Community content is available under
CC-BY-SA
unless otherwise noted.