Pokemon Oren Version is a fan-game being created by MasterPalkia and MasterBall. Work began on July 17,2008. The actual making of the game has not begun, but will soon . The Pokedex is close to being finished. We are still looking for more staff members; There are 10 of us so far.
Storyline
Edit
Pokemon Oren takes place in a new region called the Oren region. You are a regular Pokemon trainer. You may be able to pick your own appearance. There are many new Pokmeon, places and people. You will have to stop Team Geo in thier plan to take the star of Hita.
The story is tracked through a karma system which influences the growth of charctars and the pokemon powers, some being enhanced by good deeds, while ignoring the pleas of the citizens will favor the growth of other powers and abilities. The karma system will also affect how the citizens react to the character; if the player has helped citizens, they may come to his/her help in certain battles, while in the contrary position, the citizens may flee as the character approaches. However, the player is able to alter their karma and pursue the alternate direction should they want to. This how ever has not been confermed yet.
Characters
Edit
You you take the role as a Pokemon trainer like in the other Pokemon games.
Your Rival of course you have your rival who will always be looking for a battle.
Harrison is another rival of yours.
Professor Redwood is the regions Pokemon professor.
Team Geo are the new antagionists. They want to take the star of Hita and claim it's power.
Character trainer card
Edit
characters will have trainer cards that identify there rank,type of pokemon,badges,age,ect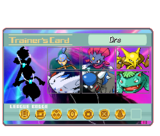 Pokemon Oren online beta version
Edit
pokemon oren online beta verion is not confirmed but is in the works.It allows players to enter a pokemon world where characters can battle all around the world in matches and be the top master.It has a total of 10 game modes king of the hill,oren world cup,worlds oren master the rest is still in progress.The "worlds oren master" lets everyone around the world battle for the ownership and the grand master of the world.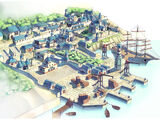 Expected Demo Release
Edit
Summer of 2010 as of July 17, 2008
Staff list last updated 23rd July 2008.
Staff List

| Member Nickname | Position(s) | Joined | Status |
| --- | --- | --- | --- |
| MasterPalkia | | 2008 | Active |
| MasterBall | | 2008 | Active |
| UltraBall | | 2008 | Active |
| Reptilia | | 2008 | Active |
| Yun-Yun | | 2008 | Active |
| Celibe | | 2008 | Active |
| SirMatt | | 2008 | Active |
| MASTER ROACH | | 2008 | Active |
| nindiame2 | | 2008 | inactive |
| POKEMON_GUY | | 2008 | Active |
Screenshots
Edit
Community content is available under
CC-BY-SA
unless otherwise noted.